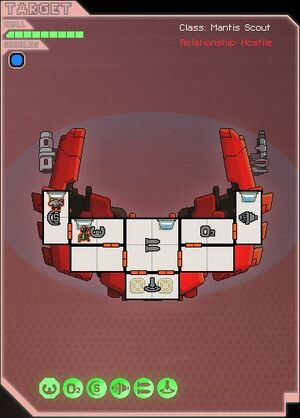 Mantis Scout / Pirate Scout
Edit
blueprint: MANTIS_SCOUT, MANTIS_SCOUT_P
Hull Strength: 6-14
Crew: 3-5 TOTAL, 3-5 Mantis, 0-2 Engi (Pirate crew is 3-5 random)
Systems
Optional
---
Mantis Interceptor / Pirate Interceptor
Edit
blueprint: MANTIS_SCOUT_DLC, MANTIS_SCOUT_P_DLC
Hull Strength: 6-14
Crew: 2-4 TOTAL, 2-4 Mantis, 0-2 Engi (Pirate crew is 2-4 random)
Systems
Optional
---
Mantis Fighter / Pirate Fighter
Edit
blueprint: MANTIS_FIGHTER, MANTIS_FIGHTER_P
Hull Strength: 8-16
Crew: 3-5 TOTAL, 3-5 Mantis, 0-2 Engi (Pirate crew is 3-5 random)
Systems
Optional
---
Mantis Assault / Pirate Assault
Edit
blueprint: MANTIS_FIGHTER_DLC, MANTIS_FIGHTER_P_DLC
Hull Strength: 8-16
Crew: 2-5 TOTAL, 2-5 Mantis, 0-2 Engi (Pirate crew is 2-5 random)
Systems
Optional
---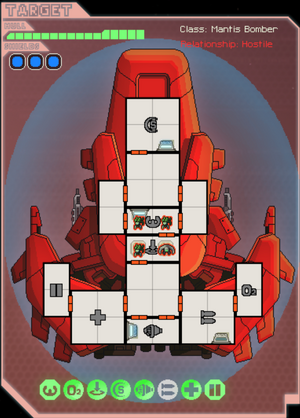 Mantis Bomber / Pirate Bomber
Edit
blueprint: MANTIS_BOMBER, MANTIS_BOMBER_P
Hull Strength: 10-18
Crew: 4-6 TOTAL, 4-6 Mantis, 0-2 Engi (Pirate crew is 4-6 random)
Systems
Optional
---
Mantis Aggressor / Pirate Aggressor
Edit
blueprint: MANTIS_BOMBER_DLC, MANTIS_BOMBER_P_DLC
Hull Strength: 10-18
Crew: 3-6 TOTAL, 3-6 Mantis, 0-2 Engi (Pirate crew is 3-6 random)
Systems
Optional
---
These Mantis Ships can have any of the following weapons:
Additional weapons with Advanced Edition Content enabled:
Ad blocker interference detected!
Wikia is a free-to-use site that makes money from advertising. We have a modified experience for viewers using ad blockers

Wikia is not accessible if you've made further modifications. Remove the custom ad blocker rule(s) and the page will load as expected.